Mortgage Deferral Payments to End Soon
Date Posted: September 15, 2020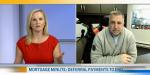 During the Corona Virus Pandemic, Canadian homeowners deferred approximately $1B in mortgage payments. Now that we are nearing the six-month mark of the pandemic, the deferral programs introduced by financial institutions are coming to an end. What that means for the average Canadian is that their regular mortgage payment is about to start.
So, what are your options if you are not yet back to work?
The best suggestion at this time is to contact your financial institution that you have your mortgage with to see what additional options may be available. Have some more questions? Reach out to your Mortgage Broker today!
To view the Mortgage Minute with Frank Napolitano; click here
Contact your Mortgage Broker today for trusted advice